12 Dec

FARMHOUSE CHIC
12 DEC
FARMHOUSE CHIC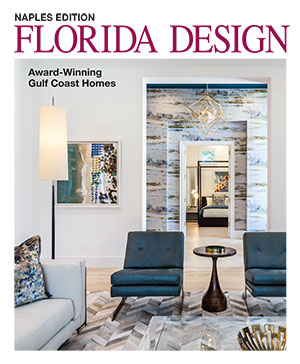 Posted in Luxury Home Design by ROI Naples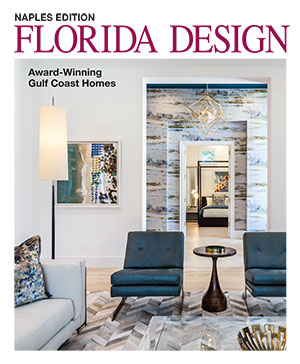 INTRODUCING A NEW STYLE FOR THIS TRANSITIONING 1970'S NEIGHBORHOOD,
ONE PINE RIDGE ESTATES HOME COMBINES SIMPLE SHAPES WITH CONTEMPORARY ELEMENTS
INTERIOR DESIGN BY WILFREDO EMANUEL, CLIVE DANIEL HOME, NAPLES, FL
ARCHITECTURE BY ROB HERSCOE AND MICHAEL HAJJAR, HERSCOE HAJJAR ARCHITECTS, NAPLES, FL
DEVELOPER RICHARD DONNELLY, R.O.I. NAPLES, NAPLES, FL
BUILDER JAY AND MIKE BOWERMAN, BIG ISLAND BUILDERS, NAPLES, FL
LANDSCAPE ARCHITECTURE BY SCOTT WINDHAM, WINDHAM STUDIO, INC., BONITA SPRINGS, FL
TEXT BY CHRISTINE DAVIS | PHOTOGRAPHY BY GIOVANNI PHOTOGRAPHY, NAPLES, FL
Farmhouse vernacular architecture, a familiar countryside sight, is infused with a certain sculptural purity that resonates. Close to Pelican Bay, Vanderbilt Beach and Mercato, the homes in the sprawling 94-acre community of Pine Ridge Estates are undergoing a major gentrification. "The interesting thing is, it feels rural — home sites are large and equestrian properties are sprinkled throughout the neighborhood," architect Rob Herscoe says. Building a contemporary farmhouse there, on a large lot with mature trees in the midst of homes with varied architectural styles, offered Herscoe Hajjar Architects the perfect opportunity to push the envelope.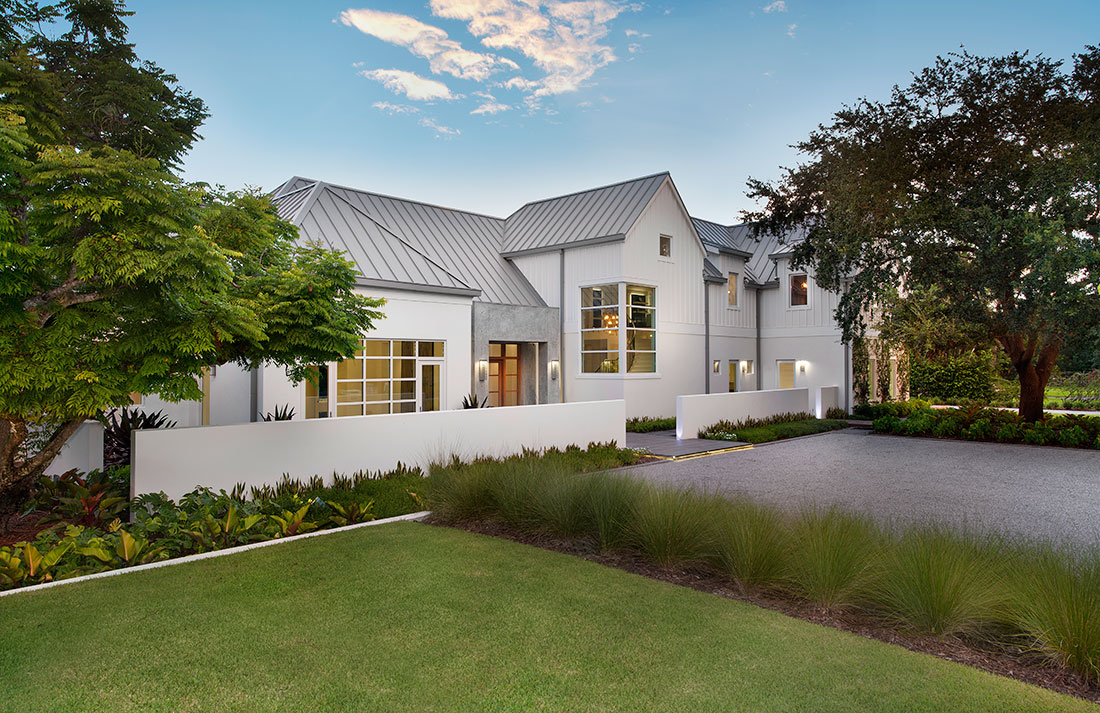 PICTURED ABOVE: "The goal was to design a one-of-a-kind home, utilizing unique spaces that 'you'll never see repeated,'" architect Rob Herscoe says. "The house is a little bit eclectic, with the traditional forms of a farmhouse and some decidedly modern features. It's a nice mixture of old and new."
This two-story, 6,000-square-foot spec home is clad in stucco, scored to appear like board-and-batten siding, and the standing-seam metal roof is steeply pitched, allowing for voluminous interior spaces. Large picture windows pierce walls in the stairway and living room, and along with the formed cement portico, convey contemporary dynamics.
Welcoming, charming and chic, the home's interior details include European white-oak flooring in a herringbone pattern, a variety of ceiling designs, reclaimed hemlock wall features and a certain layered dimension, with rooms that spill seamlessly into each other. Upon entering, an open floor plan comes into view. "This is where the home departs from a farmhouse — it reads as one big space," architect Rob Herscoe says.
In the living area, comfortable seating is arranged into two groupings. "I wanted to divide the space into two areas, each with its own personality, but still have the room work as one large space," interior designer Wilfredo Emanuel says. "I didn't use large-scale furniture because everything is open. Simple lower pieces allow one to see through to the back and enjoy the outdoors."
Near the fireplace, four Thayer Coggin chairs clad in cream tweed linen and framed in stainless steel are arranged around a matte white-laquer cocktail table. A citron-hued sofa clad in velour silk, two armchairs in ivory suede and two in a silk brocade print shape a second seating area. "The sofa's bold color balances the ivory tones on either side and neutral Vanguard cocktail tables ground the room," Emanuel says.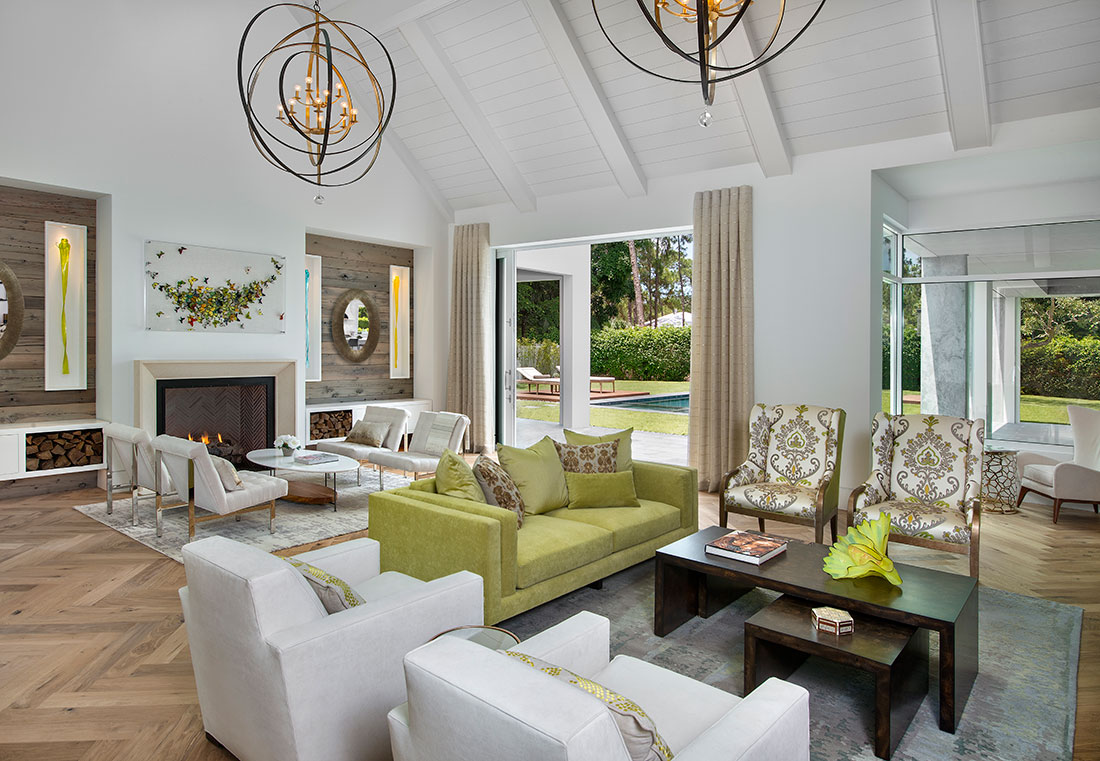 PICTURED ABOVE: In the living area, above a Spanish limestone fireplace crafted by Real Rock, hangs a commissioned feather butterfly assemblage titled "Flight of Spring" by Juan Carlos Collada, from the Gardner Colby Gallery. In the second seating area of the living room, two Tomlinson armchairs covered in a silk print echo the citron hue in the velvet-clad sofa adorned with accent pillows from Clive Daniel Home. A sculpture from Beverly's Tropical Glass adds a pop of color to nesting cocktail tables from Vanguard.
The kitchen is white and clean lined, with satin-finished cabinetry, Pompeii quartz countertops and a tile backsplash that mimics antique brick. Barstools from J Mark Modern Home pull up to a large island featuring an oversized Carrara Venatino marble top that is perfect for casual dining.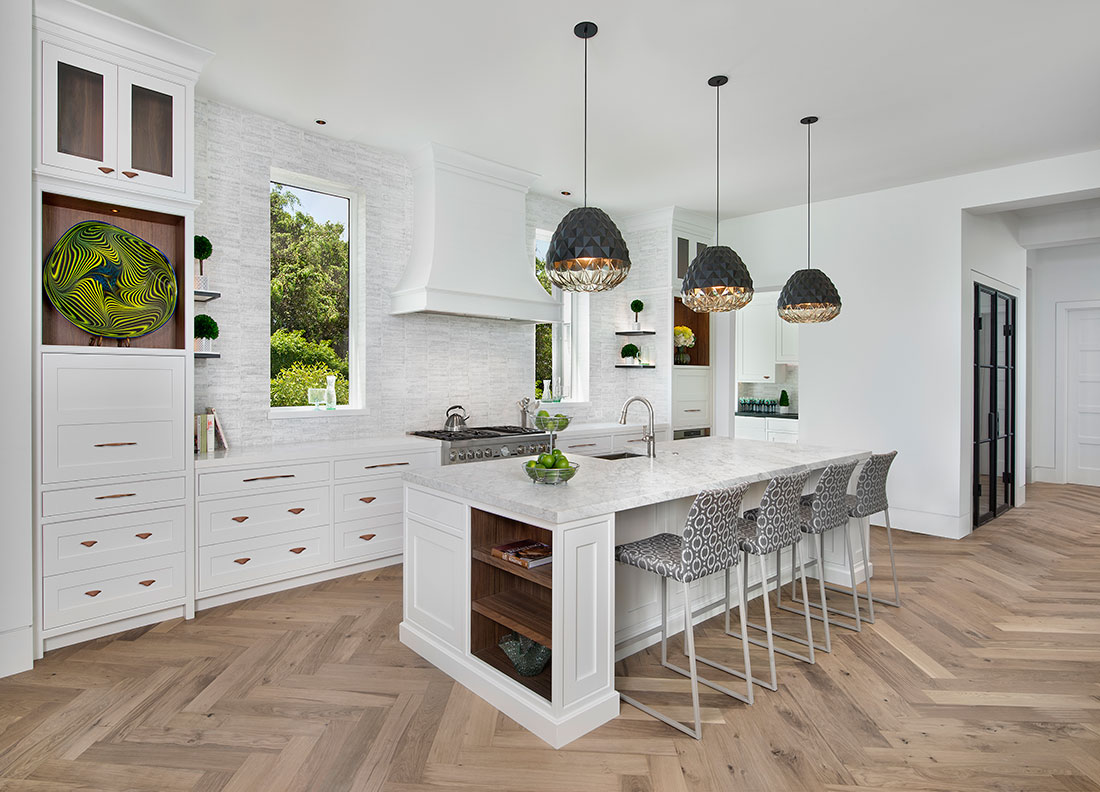 PICTURED ABOVE: In the contemporary white kitchen, pendants from Lighting First lend interesting detail in a black-matte metal finish above a chef's island designed by Van Eliza Design and topped with counters sourced from UMI.
In the dining room, a driftwood dining table, based in brass and edged with linen-clad chairs from Hickory White, establishes a connection to nature and lends a Mid-century modern feel. Disappearing glass sliders open to the lanai and offer views of the pool, spa and award-winning outdoor living area.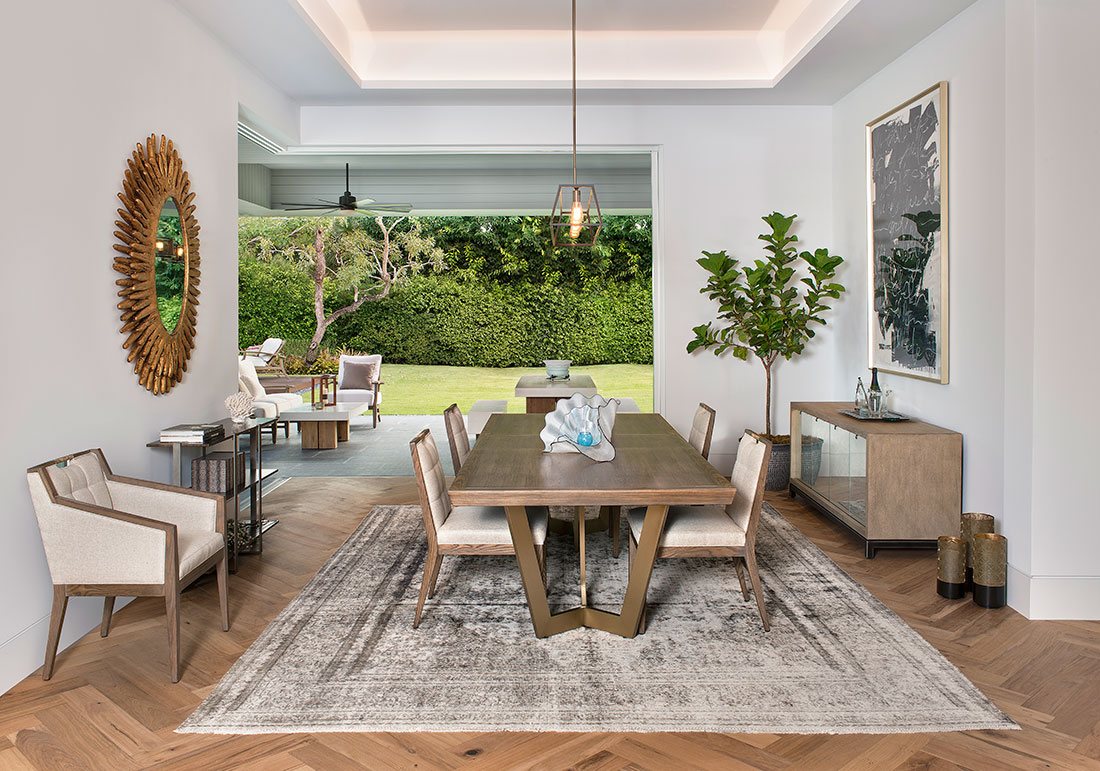 PICTURED ABOVE: In the dining room, a driftwood credenza with mirrored doors complements an FFDM console in iron and driftwood below a gilded sunburst mirror. A bronze chandelier strikes the right balance between casual and elegant.
The centerpiece of the master bedroom is an Old Biscayne iron poster bed with an off-white leather headboard. A Vanguard dresser and bedside tables are also created in driftwood and champagne-velvet covered swivel chairs by Paul Robert add a glamorous touch. "I played with the light tones adding blue and citron in the bed linens, the same colors used in the living room, to make the spaces flow," Emanuel says.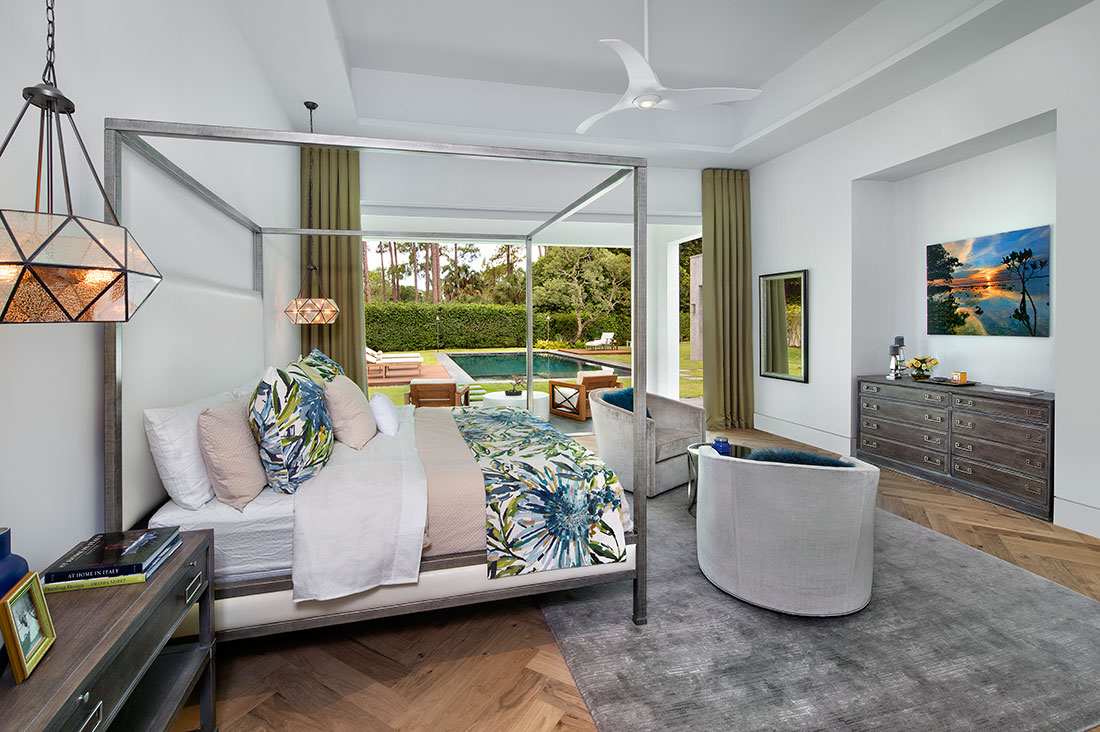 PICTURED ABOVE: In the master bedroom, the inlaid pattern of Kravet's silver-gray area rug complements the metallic tones in a bed frame from Old Biscayne Designs. A wall of glass doors open to the lushly landscaped pool and patio area.
The light-filled master bath features bold accent walls painted in a deep shade of eggplant — an unexpected and sophisticated twist. "We combined lots of different elements to make the master bathroom unique," Emanuel says. The custom cabinetry is enveloped in Bianco Neve leather-finish marble from UMI which waterfalls down to an integrated lower stone shelf. "It gives the feeling of an Italian spa," the designer says.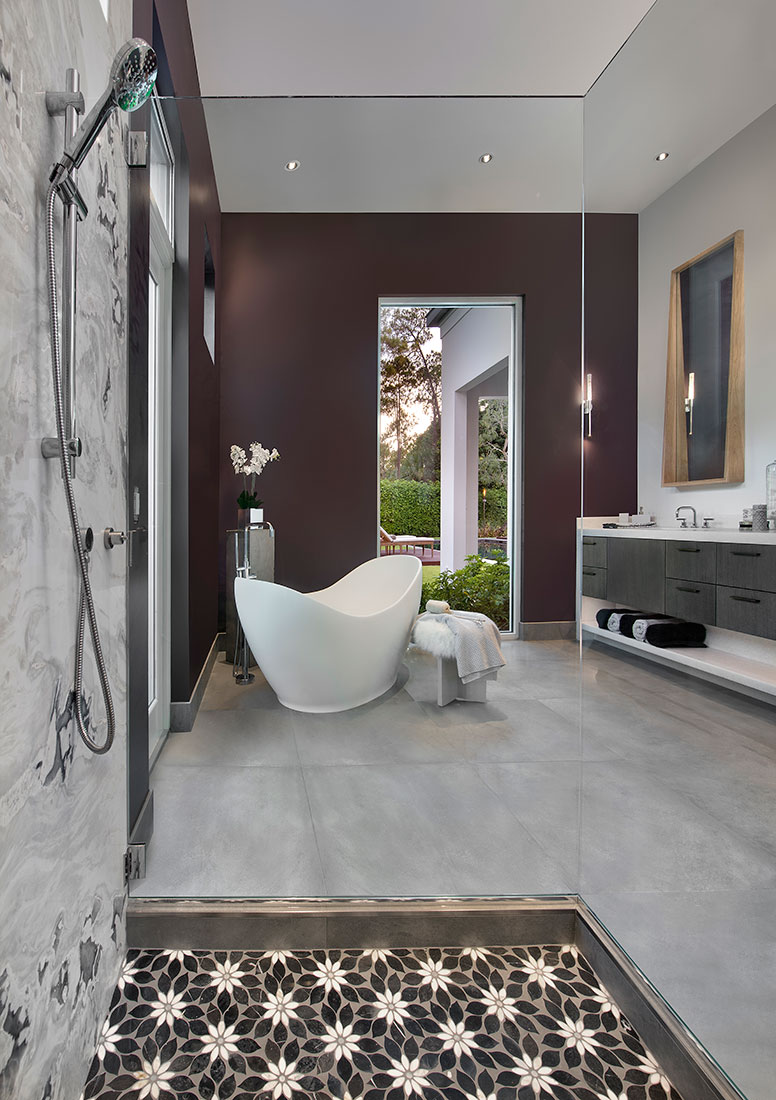 PICTURED ABOVE: The master bath features a white slipper tub from Naples Plumbing Studio positioned by a window that lends a view of the manicured grounds. A shower floor of floral patterned tile from TileBar adds a whimsical touch and complements Calacatta Namibia marble shower walls with gray and black veining.
Outdoors, the pool and patio area is a private oasis that features inviting Ipe wood decks fashioned with luxury furnishings and a custom pool that is framed in charcoal-gray flamed granite.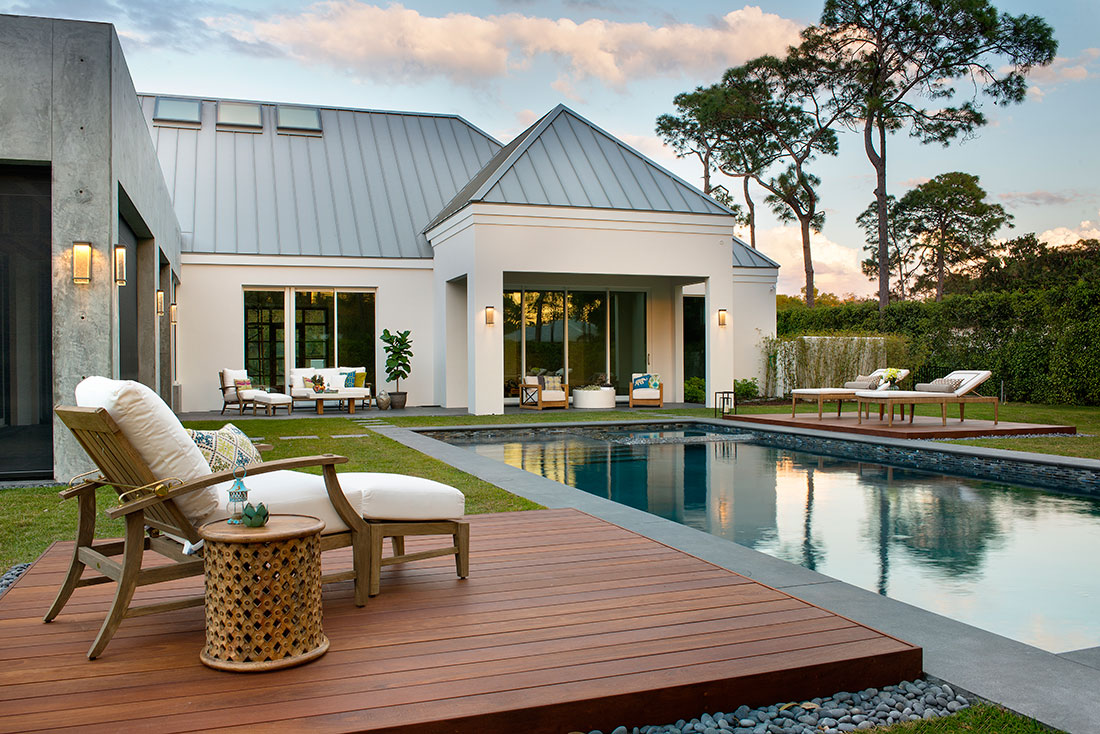 PICTURED ABOVE: In the spacious outdoor area, comfortable teak lounge chairs from Summer Classics and cushioned wicker chaise lounges from Skyline provide the perfect place to relax and enjoy Florida's sunshine near a custom pool designed by Windham Studio.
"Bold colors, such as eggplant and citrus, as well as the use of cement finishes, introduce new concepts to Naples," Emanuel says. "The project was very refreshing and fun, and I'm inspired to do more in this 'farmhouse chic' style … I think it's going to be the new big thing."
SOURCES
LIVNG ROOM
Sofa – McCreary Modern, Newton, FL
Fabric – Carter, High Point, NC
White armchairs and nesting cocktail
tables – Vanguard, Conover, NC
Patterned armchairs – Tomlinson, High Point, NC Barcelona chairs – Thayer Coggin,
Clive Daniel Home, Naples, FL
Chartreuse sculpture – Beverly's Tropical Glass, Naples, FL
Driftwood cocktail table – Resource Decor,
Hickory, NC
Small accent table – Caracole, Clive Daniel Home, Naples, FL
Built-in cabinetry – Van Eliza Design, Naples, FL, and Truly Handy, Bonita Springs, FL
Fireplace, reclaimed wood and flooring – Custom designed by R.O.I. Naples, Naples, FL
Mirrors on reclaimed antique hemlock
walls – Wilson Lighting, Naples, FL
Draperies – Window Wear Design, Naples, FL
Area rugs – Antique & Contemporary Rug Gallery, Naples, FL
KITCHEN
Island breakfast bar and cabinetry – Custom designed by Van Eliza Design, Naples FL Countertops – UMI, Inc., Naples, FL
Backsplash and wall tiles – TileBar, New York, NY Barstools – J Mark Modern Home, Naples, FL
Iron and quartz shelving – R.O.I. Naples, Naples, FL Green glass art – Beverly's Tropical Glass, Naples, FL DINING ROOM
Dining table and chairs – Hickory White, Hickory, NC Shell sculpture – Beverly's Tropical Glass, Naples, FL Credenza – Resource Decor, Hickory, NC
Mirror – Made Goods, High Point, NC
Console – FFDM, Clive Daniel Home, Naples, FL Area rug – Antique & Contemporary Rug Gallery, Naples, FL
MASTER BEDROOM
Bed – Old Biscayne Designs, Americus, GA Headboard and bedside table – Vanguard, Conover, NC
Chairs – Paul Robert, Taylorsville, NC
Angora accent pillow fabric on chairs – J Mark Modern Home, Naples, FL
Draperies – Window Wear Design, Naples, FL
Area rug – Kravet, Inc., Naples, FL
MASTER BATH
Cabinetry – Custom designed by Van Eliza Design, Naples, FL
Shower structure – UMI, Inc., Naples, FL
Tub and hand shower – Naples Plumbing Studio, Naples, FL
Mirror – Truly Handy, Bonita Springs, FL
Floral tile and flooring – TileBar, New York, NY
POOL/PATIO
Pool – Custom designed by Windham Studio, Inc., Bonita Springs, FL
Loveseat, armchairs and ottoman – Summer Classics, Boca Raton, FL
Cushions, accent pillow fabrics, accent table, square cocktail table and decking design – R.O.I. Naples, Naples, FL
Chaise lounges – Skyline, Thornton, IL
Round cocktail table – Seasonal Living, Austin, TX
THROUGHOUT
Chandelier, pendants and sconces – Lighting First, Bonita Springs, FL
Stone fabricators – Real Rock, Naples, FL
Electrical design – JS Carroll Electric, Naples, FL Wallcovering – Best Way Painters, Naples, FL
Ipe wood – Advantage Trim & Lumber, Sarasota, FL Exterior stucco and interior plaster – Franco Plastering, Inc., Naples, FL
Millwork and door hardware – Design Studio by Raymond, Naples, FL